SEO Services For Personal Injury Lawyers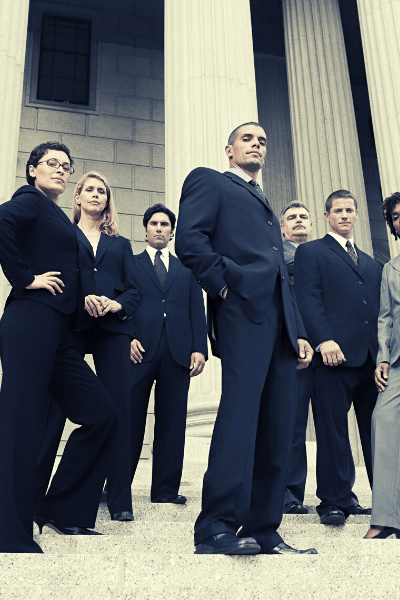 An SEO Guide For Finding The Right SEO Strategy as a Personal Injury Lawyer.
You're probably wondering how much it will cost and who to trust. And why do I need SEO for my personal injury law firm marketing budget?
Let's start with three simple steps to building a good foundation for your law firm marketing strategy.
Pro Tip: Time is a big factor when budgeting your campaign. You can show up in Google for more terms much faster with a bigger budget, or go smooth and steady with a smaller budget. Both can be effective strategies.
Step #1 – Personal Injury Law Firms Need to Look Research, Their Competitors.
There are ways to understand just how much budget you will need to expect superior SEO results. One of the first and extremely easy ways to do that is to view what your competitors are doing.
First, open up your laptop and make sure you're located in the practice areas where you want to show up in Google.
Now type in 'personal injury lawyer and see what shows up in the first three positions of natural organic search.
This is not to be confused with Ads or Google my business listings, but just below those, you'll see the natural search results.
Once you see the top three listed websites. Make sure they are the local law firms that are your direct competitors.
Now click on the websites and observe the designs, images, content, and anything else you may want to make a note of.
For example, is their web design simple or elaborate? Is the content on their website only ten pages, or do they have hundreds of pages? A law firm's website is usually well-designed and updated.
How about videos?
Are they doing videos and publishing them on their website? Are they behind-the-scenes videos, or are they fully produced with lighting and perfect audio?
What about the footer at the bottom? Are there trust seals that reference trusted law firm websites like AVVO or Justia and show their listing and credentials?
What about reviews? Do they have a lot of reviews and case studies published?
Did you know that case studies published on a website not only build and establish trust, but those pages also win rankings in Google?
Is the content optimized? Does it have well-written titles, headers, and internal linking to other supported articles on its website?
What about link building? You can check to see if your competitor has a lot of links by using any free link-building tool online.
The quality of the links is critical. Make sure you understand how to view the difference between a quality web endorsement link vs. a spammy link that's been paid for or built with cheap software.
All of these things are going to show you quickly what to expect from a successful budget and strategy.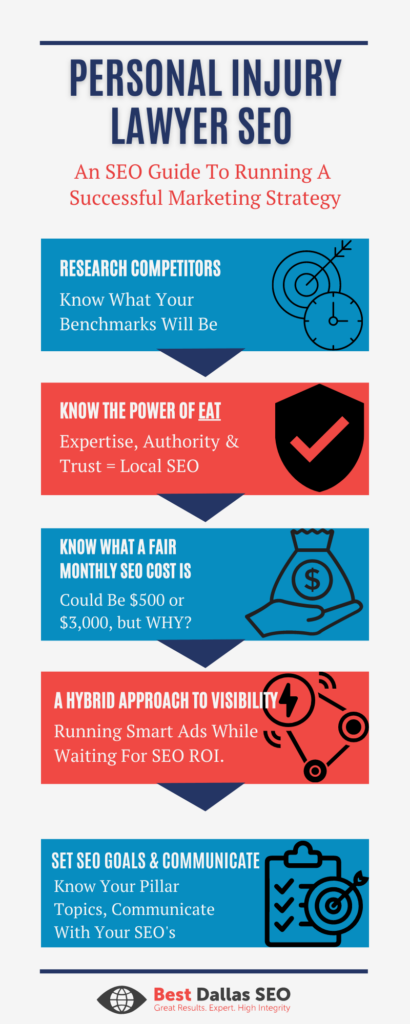 Step #2 – Understand The Power of EAT as a Personal Injury Law Firm.
EAT is an acronym that Google designed into its algorithms in 2014. Since then, it's grown to be a core part of Google's learning matching.
What does EAT stand for? There are many interesting topics around what it includes, but the simple way to understand is to default to the acronym itself. It stands for; Expertise, Authority, and Trust.
Expertise – Show us proof that you know what you know!
This will ultimately come down to your content and how well your knowledge is for personal injury. If you can think of every term you mention to your clients and in court and then write content for those terms well, you can probably bet that you're already one step ahead of your competitors.
We had a client that sat down with us. He was a worldwide court martial attorney, and we had him talk about every single article of the UCMJ. We then built pillar topics based on keyword research and data mining. After the conversation and research were made, we found the best content writer we could to have all of the topics written. We then had the lawyer proofread and make 'authoritative' adjustments to the content.
The process was long, but once we (the SEOs) received the final approved content back, we then started our website architecture and SEO publishing process.
The results were phenomenal, and our client ended up winning over 50% of the Share of Voice (SOV) in search. He now has the strongest-ranking court martial website in the world.
That's the power of Expertise!
Authority – What kind of credentials have you earned?
Have you listed anywhere on the web that would prove these credentials? As referenced above, these can be verified by having trust seals on your personal injury website.
Web endorsement from other authoritative websites. These can be won by natural outreach link building. Or they can be gained by another website linking to your content because it's helpful and supports what they are writing about.
If a website that has a lot of traffic and the page has a lot of relevance to your niche, and the author decides to link out to your blog page, that usually tells Google that you have some authority on this subject.
Trust is a strong ranking signal in local SEO.
What are other people saying about you? Are there reviews? Do they mention topics in their reviews that you would like to rank your web pages for?
Who are you? You may know that you've been in business for 30 years, but does Google? Make sure that your business name, address, and phone number (also known as NAP to local SEO's) are all consistent throughout your website and other local citations.
Having a business license, your business associations, any memberships, or other business assets that would make sense to the public listed on your website is probably a good idea.
Step #3 – Know what a fair SEO monthly cost is for your geo-location.
Most SEO for personal injury in a competitive injury lawyer niche will run upwards of $3,000 per month or more.
But it could also be $500 per month if your geographical location and competitors are small.
Personal injury lawyers need to know this. Law firm SEO services can be expensive, and they can also be extremely budget-friendly.
That's why it's good to have an honest SEO team that will tell you why your budget should be so much per month and show you benchmarks of your competitors.
Once you have your benchmarks, it makes it easier to understand what is expected to ensure your SEO R.O.I. is going to work well.
We've often seen lawyers hire SEO firms and thrown into packages. Big agencies like Scorpion, for example, does this. And the worst thing about the "packages" from these big agencies is that it usually comes with the agency's hosting. So your templated website is on their servers forever, until you cancel.
While that doesn't seem so bad, if you want to leave and build a new site with a new SEO company, the big agency won't let you export your website over to a new host. Ouch!
That big shiny SEO package just became a nightmare. Not good.
With smaller SEO firms that you can trust, there's a lot more transparency about where your budget is going and why.
Now that you have an idea of what a solid SEO foundation may need to look like, the next thing you'll need to consider is a hybrid approach of Ads + SEO + a little bit of patience.
With all things good, it always involves patience. For SEO to work well, there needs to be an expectation of how long it will take for your desired keywords to rank in the top 3.
Sometimes SEO can take six or more months to win visibility. This will all depend on what kind of competitor benchmarks are in play and how much budget you are investing to reach those benchmarks.
Smart ads will help position your business website on search within a week.
The most effective path to well-established rankings in Google is to have a hybrid SEO + Ads campaign. The Ads will help you win leads in the short run, while the SEO will hold your business for long-term visibility.
If you want to get those phone calls coming in right away, then consider having your attorney SEO team launch smart ads from Google's business profile.
Smart ads are a great way to supplement your SEO strategy while waiting for your landing pages to start winning organic traffic.
Digital marketing can be complicated, but these two elements of SEO strategies are a perfect formula for winning conversions.
A Law Firm's marketing strategy should always have SEO goals.
A few pillar topics for a personal injury attorney may include; car accident lawyers, personal injury attorneys, personal injury lawyers, medical malpractice, and more.
If you have just a couple in your head that you want to win, let your SEO's know that.
Of course, most of the time, your SEO's will already have a good understanding of what your pillar topics are, what kind of landing page benchmarks you'll need, and what kind of budget should be considered to strategize well.
First Page Rankings Are Completely Possible!
We know that there is an overwhelming library on the digital marketing checklist to make sure your success is promised. Quality content, quick loading website, precision in local SEO signals, and the list goes on.
But if you've noticed in this article, you'll see that our passion for helping small business owners is to help them win new clients.
We want to make sure that your expectations and basic understanding of what a personal injury lawyer needs to commit to is honest and also effective.
Your online presence will make a difference only if you find an agency that you can trust.
Give us a call today, and we'll gladly help you with a free consultation.