Why SEO Link Building Consultants are still needed.
So what exactly is a white hat link-building consultant? How do you find them?
Understanding what links will get you flagged by Google and naturally acquired links through outreach is critical.
Link building, in the old west days, was a lot different than what it is today. In 2011, you could buy a handful of quality links for just a hundred bucks, and you'd probably see results in the SERPS within a week or two.
These links could be picked up at your nearest link-building services provider fairly easily. In fact, if you had a little time on your hands, you could actually buy SEO software and build profile links yourself and see a lift in rankings.
The days of buying backlinks are done! Link acquisition needs to be done smarter now. And it needs to be white-glove-clean if you're going to venture into any type of link building strategy.
What types of links are out there?
There are eight types of links that still float around on websites. They are listed as the following in order of quality.
The last few links on this list are links you'd never want to acquire.
Editorial Links.
Editorial links are those high-end links you see on Forbes, Tech Crunch, and WSJ. These links are written and/or approved by the website editorial staff and run in the tens of thousands of dollars or more per link.
Yes, they are very expensive links because they not only pack an SEO punch but will drive traffic and brand recognition to your business.
Most small business owners do not have this kind of budget to throw at links, and if you have a smart SEO consultant, they can usually help you achieve just as good SEO and brand results without the big price tag.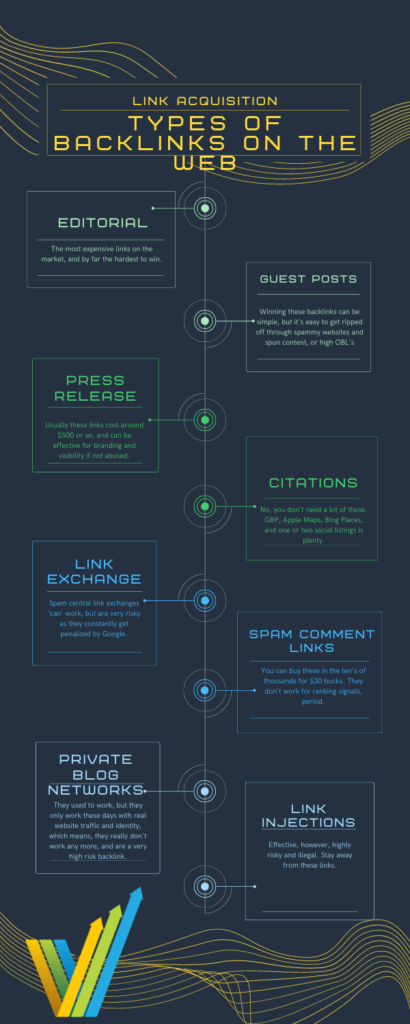 Pro tip ~ If you're in the market for premium Editorial links, make sure that the editor that is writing up the featured article on your business also tweets the article to their Twitter profile. This will give you extra traffic and help your EAT signals in SEO.
Guest Posting Links.
Guest posting, if done well, can pay off in rankings for your SEO. Guest posting should
A guest post is usually acquired by having content written that suits the demands of website owners that offer guest publishing on their sites.
Some websites will allow posting for free, but most of the quality sites that have good ROI on SEO will cost between $350 – $1,500 to feature your article on their website.
What determines a quality guest post vs. a non-quality?
The metrics you'll want to look for will be website traffic, authority, and relevancy. Make sure your SEO link-building consultant knows what to look for when winning links for you. It's pretty easy to lose a lot of your hard-earned marketing budget on links that are low quality if you don't have someone that knows the industry well.
Press Release Links
Press releases can be great to take advantage of if it's not abused. You'll want to have your SEO consultant or team launch a press release for you once per year or, whenever your business has an official announcement they'd like the public to know about. This can be a new website design, a new product launch, or even a new location for your business.
Press links come in the hundreds, so remember that. This is why you don't want to abuse a Press release. If you have the same link, with the same content, over and over again, Google will usually choose just a few of those to value as quality, and the other websites that syndicate the press are more of just noise in the SEO world of affecting your rankings.
You can use press links to give your inner landing pages a boost. Especially when launching a new product or service. Link directly to that landing page.
Local Citations & Business Listing Links.
No, you don't need hundreds of business citations like most SEOs will try to sell you. You only need a good handful of hyper-local relevant citations.
Gone are the days of building 150+ citations for more SEO impact.
Your most important citation will be Google Business Profile, and then the others that follow should be Apple Maps, Bing Places, Facebook business, Linkedin business, and a few hyperlocal citation websites like AVVO if you're a lawyer.
We often have people wanting to know more about business citations and the SEO impact they have. They are always surprised when we tell them that we don't use YEXT anymore. 🙂
Remember, SEO is about quality, not quantity. So when you're building local citations, keep quality, proximity, and relevancy in mind, and you'll be 90% ahead of your competitors.
Okay, now that we've mentioned the top 4 types of links you'll want to win for your SEO strategy, what about all of the other "junk" links?
Here are the worst types of links you'll see on the web.
Link exchanges or link farms
Link farms are a way that people say, you give me a link, and I'll give you a link back, type of thing. Usually, there are about two to three hundred sites in any given link farm, and a few moderators have developed a front-end system to manage all of the sites and the politics of swapping links or paying for link placements into the sites within the link farm.
Can they pack an SEO punch? Yes, you bet they can, but they are way too risky to go after and so you should make sure that your SEO link-building consultant never recommends building these types of links.
If you build these types of links, Google will eventually find you, flag your website, and BOOM, just like that, all of your rankings in search will vanish.
Spam Comment Links.
You can buy these in the tens of thousands if you just fire up a comment spam bot or pay someone from Fiverr to build them for you. So why would you ever want to build them in the first place? If they are so easy to build, why would Google value them?
A lot of black hat SEO's will use comment spam as a way of negative SEO'ing a website. But because Google just devalues these types of links in the first place, they neither work as a positive or negative signal in SEO.
Stay away from comment links as they are usually injected without a website owners permission, and they are cheap links that will eventually get your website flagged.
Private Blog Network Links.
Oh yeah, those things…
PBNs are effective. However, they are NOT a great way to run your business because they, like a lot of other links, are on Google's "do not even try it" list.
A lot of SEOs use to believe that PBNs was the holy grail of links. In some ways, they were. They would deliver tremendous SEO value up until around 2014, when Google took a massive crackdown and targeted private blog networks.
Thousands of business owners saw their rankings drop to page 20 or more, and hundreds of private blog network owners saw their subscription-based PBN models go to the wayside overnight.
Don't buy private blog links, they are a waste of your time and money.
Footer links, sidebar links, and the rest of the little tiny peon links…
I didn't want to mention these little things because they have absolutely no SEO value, but it's good to note that having a sidebar or footer link on a website that has over 10,000 pages will bring no ranking value to your web pages.
If footer links still worked, then all of the web designers would have a monopoly on selling links.
Link injections via PHP script infusion and hacking.
In 2015 a trend started happening where black hat SEOs figured out a way to inject anchors with HTTP URLs into web pages that did not have secure firewalls.
This was an attack on website owners as they'd view their pages and see hyperlinks in their web pages that they didn't add themselves.
While these links worked well for rankings in some cases, the risk in doing this was not only illegal but, obviously, very risky.
Don't take risks when you build links.
Stay away from risky link building and focus on connecting with your SEO services team to help you with your digital marketing strategy.
Our links are 100% white hat, contextual inbound links that editors and authors add to their articles on high authority websites that they are writing for. They are natural and within relevant content. We implement a very natural and safe link-building strategy.